Innovative products that restore independence in low vision situations
Trust Our Expert Low Vision Optometrist in Calgary, Alberta for
Comprehensive Eye Care Solutions
After being told that nothing more can be done for your medical vision problems, contact a skilled Low Vision Optometrist like Dr. Sal Jivraj – one of many experts in the field across North America with a track record of providing thousands of visually impaired individuals with the opportunity to lead independent and meaningful lives.
Thanks to the doctor's extensive knowledge and years of experience, patients are able to find relief and reclaim their ability to do everyday activities they love such as driving, reading, working, playing, cooking, or recognizing familiar faces.
What is Low Vision?
Visual impairment with low vision can be improved through medical, surgical, and therapeutic interventions, as well as conventional eyewear or contact lenses. According to The World Health Organization,
– Visual acuity range from 20/70 to 20/160 defined as moderate low vision
– Vision deteriorates rapidly from 20/200 to 20/400, resulting in severe low vision
– Vision impairment of 20/500 to 20/1,000 is severely impactful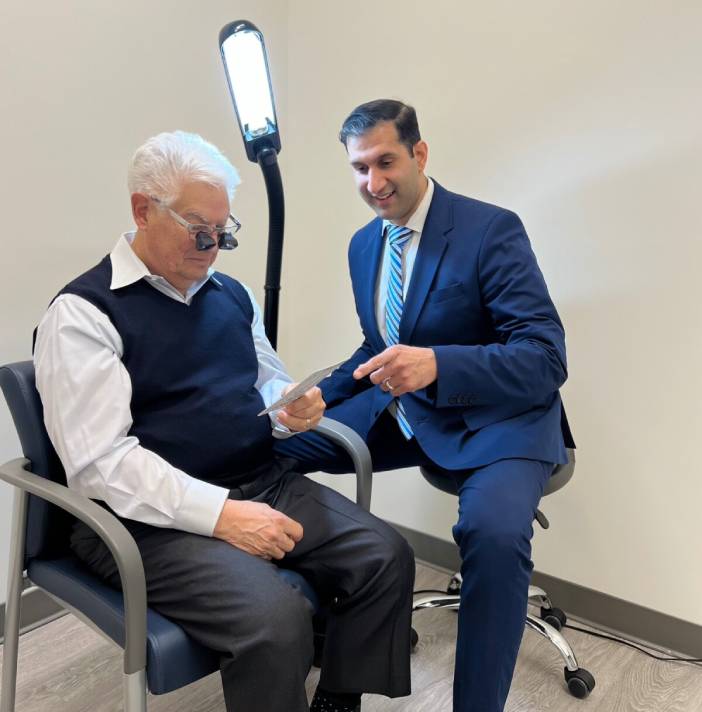 Dr. Sal Jivraj
Low Vision Optometrist in Calgary, Alberta.
BSc (Hons) OD MBA FAAO FEAOO FCOptom FBCLA FIACLE FIALVS
Revolutionary Bioptic Telescopes enhance reading capabilities for visually impaired individuals
Experience Comprehensive Eye Care at
Low Vision Calgary Optometry Clinic
At Low Vision Calgary Optometry Clinic, our team of highly experienced optometrists and support staff are dedicated to providing personalized and comprehensive eye care services to those with low vision. We understand the challenges faced by our patients and are committed to doing everything we can to help them maintain their independence and reach their full potential. Our goal is to improve the quality of life of our low vision patients through specialized care that is tailored to their individual needs. Through our treatments, we strive to make sure that they have access to the resources they need in order to live a fulfilling life.
Our Services
Our optometrists provide comprehensive eye exams and low vision rehabilitation, helping patients achieve improved vision and optimized daily activities through tailored solutions. We specialize in the prescription of specialized low vision devices, designed to address individual needs and enhance visual capabilities. With our dedicated team of experienced professionals, we strive to make a difference in the lives of our patients through personalized care and innovative solutions.
Low Vision Devices
Our clinic offers a comprehensive selection of low vision devices, including magnifiers, telescopes, video magnifiers and electronic reading devices, as well as specialized training to help our patients use their devices optimally and attain maximum potential.
Rehabilitation Services
Our specialized low vision rehabilitation program is designed to help patients learn new techniques and strategies to manage their visual impairments and improve their quality of life. Our qualified rehabilitation specialists work one-on-one with each patient to develop a personalized plan and provide comprehensive training and on-going support.
Compassionate Care
Our Low Vision Optometry Clinic offers compassionate and supportive care for those with low vision, assisting patients in overcoming the emotional and practical challenges associated with the condition to achieve their goals and live a fulfilling life.
Contact Us
Need help managing low vision challenges? Schedule an eye exam with us today to take the first step towards improved vision and a better quality of life.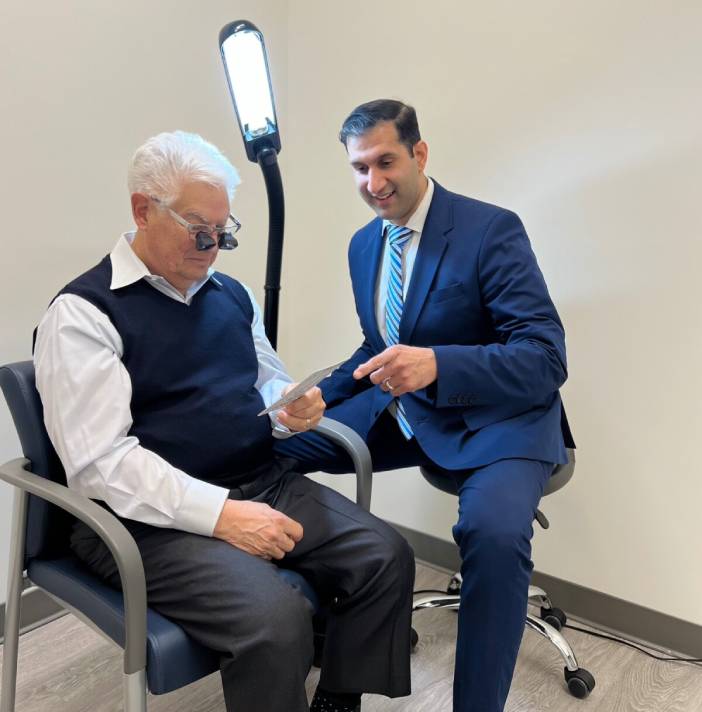 Exploring the Role of Low
Vision Optometrists
It's our aim to give you back the capacity to engage in activities that make a difference for you – for example driving a car, reading the paper, being able to recognize familiar people, viewing television programs, playing cards or board games with friends and family, cooking meals and so on.
Dr. Sal Jivraj, a dedicated member of the international academy of low vision specialists – a renowned network of low vision optometrists – has spent years intensively studying and researching low vision care. His primary aim is to help those with low vision conditions to maximise their remaining vision and empower them to live life to the fullest.
Underlying Causes
of Vision Impairment
People affected by low vision find it difficult to perform normal daily tasks due to the lack of clear vision that cannot be improved with traditional eyewear.
Delivering quality healthcare solutions to residents Southern Alberta and Calgary.
→ Macular Degeneration – wet and dry
→ Juvenile-onset Macular Degeneration in Young People (i.e., Stargardt's disease, Best disease, etc.)
→ Diabetes-related Retinopathy – loss of vision and its consequences for sufferers
→ Retinitis Pigmentosa – devastating eye disease with progressive visual impairment and abbreviated peripheral sight
→ Glaucoma – progressive vision loss resulting from elevated intraocular pressure
→ Cataracts – an age-related condition causing clouded vision in the eye lens
→ Hemianopsia – the partial loss of sight
→ Albinism – a rare inherited disorder resulting in low skin and eye coloration
→ A variety of ocular disorders that restrict visual acuity
Struggling with Visual
Disabilities?
Did your ophthalmologist tell you there are no more treatment options available?
Struggling to perform activities you love due to impaired vision? Dr. Jivraj is an expert optometrist specializing in creating specialized eyeglasses that can help improve your sight and bring back the joy of doing what you love. If changing your eyeglasses hasn't made a difference, reach out to Dr. Jivraj for assistance.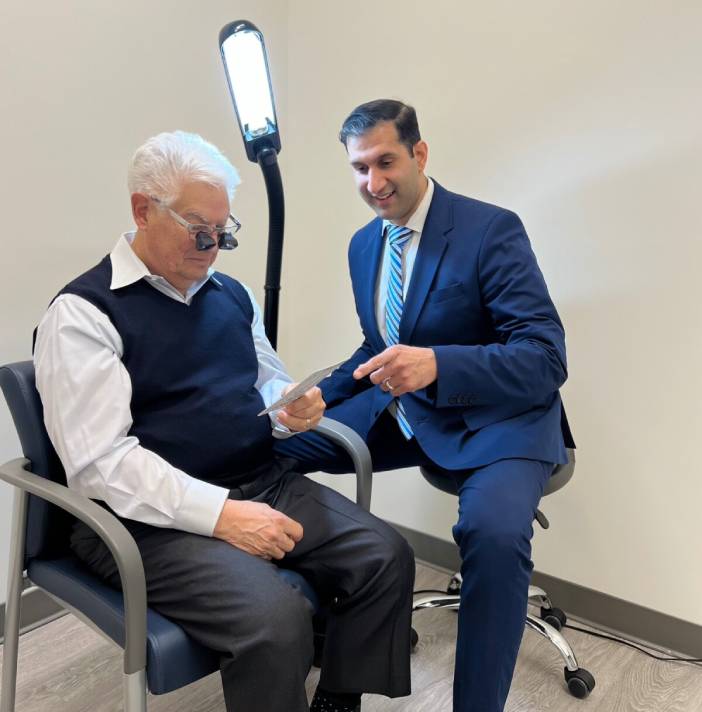 STEP 1: EXPERT EVALUATION OF VISUAL ACUITY
Experience our in-depth, non-invasive eye exam with a physician and learn vital information in just 90 minutes.
STEP 2: ENHANCE VISION WITH LOW VISION DEVICES
Our physicians have specialized expertise in selecting and designing optical devices such as miniature prescription-based microscopes for eyeglass frames to suit the needs of our patients. With these hands-free magnification devices, individuals can take full advantage of the highest levels of comfort and convenience no matter their environment or distance from a target object.
STEP 3: COMPREHENSIVE LOW VISION THERAPY SOLUTIONS
Our team of highly skilled and caring therapists collaborate to assist our patients in making the most of their devices, allowing them to regain their vision.
A RESOURCEFUL SET OF LOW VISION EYE CARE INSTRUMENTS
At Low Vision Calgary – Southcentre, our experienced low vision optometrists are here to support you with tailored hands-on advice and solutions that can help enhance your daily living with low vision. We can provide assistance with optimizing your environment through brighter lighting, which is often proven to be effective in alleviating the symptoms of many eye conditions.
The First Step: A Low Vision Consultation
An eye doctor aims to improve your quality of life through a low vision examination, collecting personal details and requirements.
Differentiating from a Standard Eye Test
A Low Vision examination is designed to help people living with vision loss. It is distinct from a regular eye exam in that it focuses more on evaluating how vision impairments can affect daily life, rather than just verifying visual clarity. During the examination, an ophthalmologist or optometrist will assess your level of vision and determine if regular glasses may be able to improve your condition. Furthermore, they will consider your goals and desires, and provide you with the best possible solution to help you regain as much of your daily functioning as possible.
Duration of the Exam
Low vision evaluation takes about an hour.
Goals and Priorities
For those looking to make the most of their vision, we recommend visiting your eye doctor to discuss and evaluate your specific goals. These may include reading, writing, recognizing faces, watching TV or driving. The doctor will assess your vision in detail, making sure to look at both the central and peripheral aspects, in order to determine which areas require extra attention. Based on the results of the exam, our professionals may suggest prescription glasses and/or a variety of low vision aids or devices that can help you achieve your desired outcomes.
ENHANCE YOUR SIGHT WITH LOW VISION GLASSES
The amazing ability of glasses to allow mobility and maintain independence and enjoyment of life: how bioptic telescope, e-scoop, side-vision awareness, full-diameter telescope, and prismatic glasses help individuals remain mobile, retain their driver's licenses, and expand their opportunities for enjoyment. With these glasses, people are able to keep their independence as they can drive and use their hands more freely.
Find the perfect low vision solution for you with the help of Dr. Sal Jivraj – extensive range of glasses to meet your unique needs!
INNOVATIVE PRODUCTS FOR ENHANCED SIGHT
Discover the benefits of magnification for enhancing vision. Closed-circuit television (cctv), video magnifiers and special software can be used to optimize vision. Hand-held devices and stand-mounted versions allow for convenient, personalized magnification that can increase font size, enhance contrast and colors on computer screens, allowing individuals to customize their visual needs. Through magnification, people experience improved clarity and an enhanced view of the world around them.
Cutting-edge equipment combines virtual reality, image processing algorithms, and audio feedback to enable you to accomplish anything!
ENHANCING ACCESSIBILITY WITH LOW VISION AIDS AND DEVICES
"Limited Vision" – A Condition Beyond Correction
People who suffer from visual impairments that cannot be corrected with traditional remedies such as eyeglasses, contact lenses, surgery or medication are classified as having "limited vision". These impairments can stem from a variety of sources, including eye injuries, aging and diseases like macular degeneration.
Challenges in Daily Living
Despite the difficulties posed by low vision, individuals need not despair – there is hope for regaining independence and obtaining relief from the challenges of reduced vision through available treatments. From being able to read and recognize faces to driving safely, modern medical interventions can help those affected by low vision restore their ability to carry out everyday tasks.
INNOVATIVE AIDS TO IMPROVE LOW VISION
The Importance of Low Vision Aids

Low vision aids can be an invaluable tool for those suffering from eye conditions such as macular degeneration, diabetic retinopathy, glaucoma, and retinitis pigmentosa. These innovative devices are designed to help people with low vision regain independence and improve their quality of life.
How Low Vision Aids Function

Low vision aids and glasses help patients to make the most of their remaining vision, by directing and enhancing it. This can enable them to regain lost visual functions. For instance, magnifiers can aid in reading small print, while computerized technology can convert text into audio for those with severe vision loss.
Choosing the Right Low Vision Aid for You

At your low vision optometrist, you'll receive a comprehensive evaluation to determine the severity of your vision loss and the most effective low vision aids and devices for you. During the initial consultation, your optometrist will assess your visual limitations before conducting a 60-90 minute low vision evaluation. This assessment will include trying different low vision aids and devices and instruction on proper use to maximize subjective visual improvement.
IDENTIFYING VISUAL AIDS FOR LOW VISION PATIENTS
Types of low vision aids: optical, non-optical, and electronic explained. Each category is suited for different visual tasks, and some of the low vision aids we offer include:
→ Hand-held/standing magnifiers
→ Full-diameter telescopes
→ E-scoop glasses
→ Bioptic telescopic glasses
→ Tele-microscope glasses
→ Prismatic reading glasses
→ Side-vision awareness glasses
→ Absorptive lenses
→ Computer software
→ Video/digital magnifiers/CCTV
DISCOVERING THE OPTIMAL LOW VISION AID FOR YOUR NEEDS
The Importance of Low Vision Aids
When living with eye conditions such as macular degeneration, diabetic retinopathy, glaucoma and retinitis pigmentosa, low vision aids can be a game-changer in enabling individuals to effectively manage the effects of their condition. Employing advanced technology and design innovations, these devices have been clinically proven to help people with low vision find new ways to overcome the limitations imposed by visual impairment and improve their overall quality of life.
How Low Vision Aids Function
Our comprehensive range of low vision devices can help you make the most of your remaining vision, enhancing your sight and improving lost visual functions. Magnifiers are ideal for reading small print, while computerized technology can convert text into audio for those with severe vision loss. We offer a wide selection of designs and strengths, from handheld magnifying lenses to advanced telescope glasses and other innovative technologies.
Choosing the Right Low Vision Aid for You
During an initial consultation, your optometrist will assess the extent of your vision loss and its limitations. This will be followed by a 60-90 minute low vision evaluation to establish the severity of your condition and determine the best solution for you. Your doctor may demonstrate the use of the chosen low vision aid and have you try it during the assessment to ensure it gives you a clear and improved visual experience.